Welcome to Bushwood Golf Shack
Largest local selection of Used Golf Balls

Re-gripping and Custom Golf Clubs
Bushwood Golf Shack
Largest local selection of Used Golf Balls
Re-gripping and Custom Golf Clubs
Proud to be a Sponsor!
We are a locally owned and operated Golf Supply store that can help you with all your GOLF needs. We have a large selection of golf balls, golf club, golf bags, shoes, hats and golf accessories.
Our Storefront is open Wednesday-Sunday and we are located in Auburndale, Florida at the International World Flea Market we are close and convenient please come stop by our storefront today for great savings and service you can trust.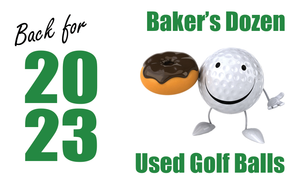 Get a Baker's Dozen Today!
Get 13 for the price of 12 used golf balls everyday! Hurry in and grab yours stock changes daily.
The average golfer (3 times a month) can save close to $400 a year at Bushwood Golf Shack on golf balls alone. If you lose a dozen balls a month and buy Titleist Pro V1 golf balls at a major sporting goods store, you would be paying over $576 a year for golf balls. At Bushwood, Titleist Pro V1's in excellent condition are $15 a dozen, that's only $180 a year! Over 10,000 balls in stock. Over 75 makes and brands. (Bins Only)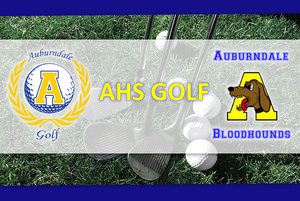 Proud to be a Sponsor!
We are excited to announce we are proud sponsors of our local Auburndale Bloodhounds!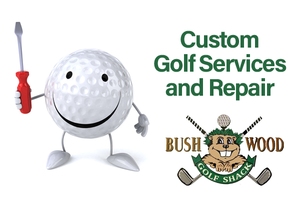 We re-grip and specialize in Custom Golf Clubs
We have a wide variety of grips for clubs and putters. Need a custom golf club Bushwood Golf Shack can build a unique club that will fit you. When it is ready for pick up you can come in and try it out for free in our golf simulator room to make sure it is the perfect fit! View Pricing
Golf Simulator
Choose from over 45+ golf courses you can play alone or with up to 4 players per 18 holes. Don't forget the driving range to get some practice in and analyze your every swing. Contact us to book a time.
More Info